I've been uploading travel vlogs to YouTube for over a year now, and I thought it was time to share my travel vlogging equipment. My travel vlogs are more casual than cinematic so I use more beginner vlogging gear. Which means if you're just getting started as a travel blogger or vlogger, this gear list is perfect for you.
*This post contains affiliate links. Which means that if you purchase something after clicking on a link, I may earn a small commission at no extra cost to you.
Travel Vlogging Equipment – Cameras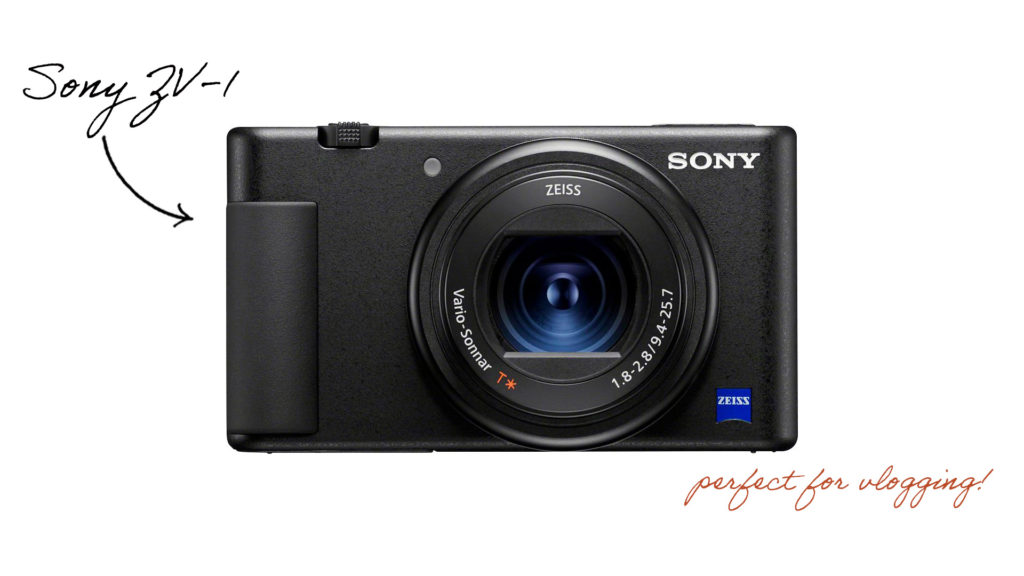 Sony ZV-1
I've been using the Sony ZV-1 for all my YouTube videos for a little over a year, and let me tell you it's been wonderful. I previously used a Canon G7X Mark II, and while it's a great camera there are some features that it was lacking in comparison.
For instance, the Canon's screen isn't fully articulating and only flips up. With the ZV-1, the screen can pop up out to the side, rotate forwards and back, and close in on itself to protect the screen. Another thing the Canon doesn't have is an external microphone port.
A couple of other features of the Sony ZV-1 that I love are the background defocus, which blurs your background with the touch of a button, and the product showcase mode, which quickly focuses on a product put directly in front of the lens. No more putting your hand behind things to make the camera focus! All these features, plus its user friendliness, are what makes the ZV-1 a great vlogging camera for beginners.
The only part I miss about having the G7X is the great Canon Connect app which allows you to transfer photos and videos easily to your smartphone. Sony also has an app but it's terrible from my experience with it.
GoPro Hero 10
The GoPro Hero 10 is the second camera I added to my travel blogging kit. I got it right before I went to Costa Rica, because I wanted to be able to capture footage of me and my friends zip lining, paddle boarding, and white water rafting.
A GoPro is a great secondary travel vlogging camera; especially, if you're doing any adventure or water activities.
iPhone 13 Pro Max
I use my iPhone to grab quick photos and videos for social media. For me, it's easier to shoot vertical video on my phone than to shoot it on my Sony or GoPro and have to transfer it.
Travel Vlogging Equipment – Accessories
Memory Cards
There's nothing worse than running out of space on your memory card while you're out shooting, and trying to figure out what to delete so you can keep going. That being said, I keep 2-3 SD cards with me when I'm out. For my ZV-1, I use the 128 GB SanDisk Extreme Pro SD cards and for my GoPro I use the 128 SanDisk Extreme Micro SD cards.
Extra Batteries
Worse than running out of space on your memory card, is running out of battery. It's important to have a couple of spare batteries; especially, if your camera's battery life isn't the greatest. When I'm traveling I carry 2 extra batteries for my ZV-1 and 2 extras for my GoPro.
Rode VideoMicro
For a small and affordable microphone for travel vlogging, the Rode VideoMicro microphone is just the thing. Just make sure the wind muff is fully on, and use the rivets around the screw ring to secure the cable and keep your mic from bopping around.
Travel Tripod
Traveling with a tripod isn't necessarily necessary, but if you're a solo traveler or you want to be able to get group shots without having to bug someone, a travel tripod comes in handy. I bought a MeFOTO Backpacker tripod, and I'm honestly surprised by how small it is. It fits in most standard backpacks and comes with its own carrying case.
Phone Adapter for Tripod
Rather than having a phone tripod and a tripod for your camera, get yourself a phone adapter. I got this one off Amazon, and it even came with a little bluetooth remote.
External Hard Drive
If you take a lot of photos or shoot a bunch of video, you'll want to get yourself an external hard drive. I use a 2TB LaCie hard drive that stores all my content. They have different versions that come with different cables, so just make sure you get the right one for you.
While traveling, I like to offload everything from my memory cards each day to a. keep my memory cards free and clear and b. ensure that should I lose a memory card on the go, all of its contents are backed up.
Phone Water Pouch
A water pouch for your phone is important if you're planning on doing any water activities and what the ability to use your phone while doing so. I got mine off of Amazon and it worked great while I was in Hawaii.
Portable Charger
If you're going to be using your phone for shooting photos and videos, getting directions, updating IG stories and what not, make sure you have a good portable charger. I use this one from Amazon and it charges my iPhone 13 Pro Max 1.5 times, which is more than enough for a full day out.
There are tons and tons of accessories for GoPros but here's the essentials:
Travel Vlogging and Blogging Equipment and Apps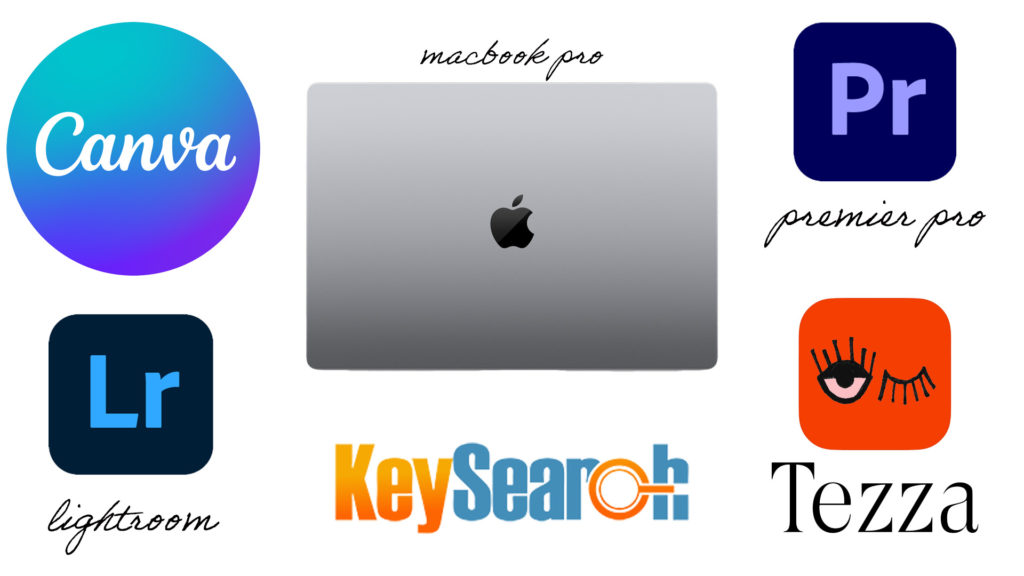 Editing Computer
I have a 2020 MacBook Pro, but any decent laptop that can handle editing software will do.
Lightroom
I love editing my travel photos with Lightroom. There's tons of Adobe presets, but you can also get some great presets off Etsy. What I like about Lightroom is that it's easy to adjust colors. For example, if you want to make the blues in your photo pop, you can turn up the blue saturation from the color mixer without messing with the other colors in the photo.
The mobile version of Lightroom is free, but if you want to edit from a computer you'll need an Adobe subscription. 
Premier Pro
Premier Pro is the software I use to edit my travel vlogs and other videos. It is another Adobe program that requires a subscription for the desktop version, but there is a free mobile version of the software called Adobe Premier Rush. If you're looking for a way to edit Reels and TikToks without the watermarks, this is a good option.
Tezza App
When I quickly want to edit photos for Instagram, I use the Tezza app. The filters are really nice and there are a good amount of adjustments that can be made. You can download the app for free but there are some features and filters behind a paywall. For instance, if you want to be able to make adjustments to videos you'll need to pay for a subscription ($5.99/month or $39.99/year.
Canva
Canva is what I use to create my YouTube thumbnails and Pinterest graphics. There's tons of free premade templates, but you can also design from scratch. I get by using the free options but like most free programs there's more features and options when you pay for a subscription.
Keysearch
Keysearch is an SEO research site. You can check keyword difficulty as well as find keywords to target. There's also a competition analysis that lets you know how you stack up against other blogs in your niche. I pay $17/month for 200 daily searches, which is plenty for me.
Travel Blogging Kit Wishlist
Mirrorless Camera
The next camera I want to add to my travel blogging gear is a mirrorless camera. I want to up my photography game and get a camera with interchangeable lenses. I've been eyeing the Sony a7 II, which is pretty much everything I'm looking for in a travel camera.
Drone
The second item on my travel vlogging equipment wishlist is a drone. I would love to have a drone someday to capture far away shots and footage. I've been doing some research on them on YouTube and the one that has caught my eye is the DJI Mini 3 Pro. It's super compact but still has some great features including being able to shoot vertical video.
Zhiyun Crane M3
The Zhiyun Crane M3 is a compact gimbal and perfect for travel vlogging. For those who don't know, a gimbal stabilizes your camera in order to get really smooth footage. If you've done a vlog and noticed the bouncing of your steps in your clips, a gimbal helps reduce that. The Sony ZV-1 does have internal stabilization, but it causes a crop on an already tight angle. I'd love to add this gimbal to my kit!
So, there's all my travel vlogging equipment that I currently use to film and edit content. I hope this helps you get starting with your travel vlogging/blogging journey. If you have a questions about anything, just drop it below in a comment.