There's plenty of amazing things to do in La Fortuna. Whether you're looking to relax or have the adventure of a lifetime, this area has something for everyone. Here's my list of things to do in La Fortuna:
In a hurry? Pin it for later!
THINGS TO DO IN LA FORTUNA / ARENAL
1. White Water Rafting
My favorite activity we did while in Costa Rica. We originally signed up for the class 2/3 Saraquipi tour; however, we went when the river was really high so they moved us to the Balsa River tour instead. We did our tour with Desafio, and I highly recommend them.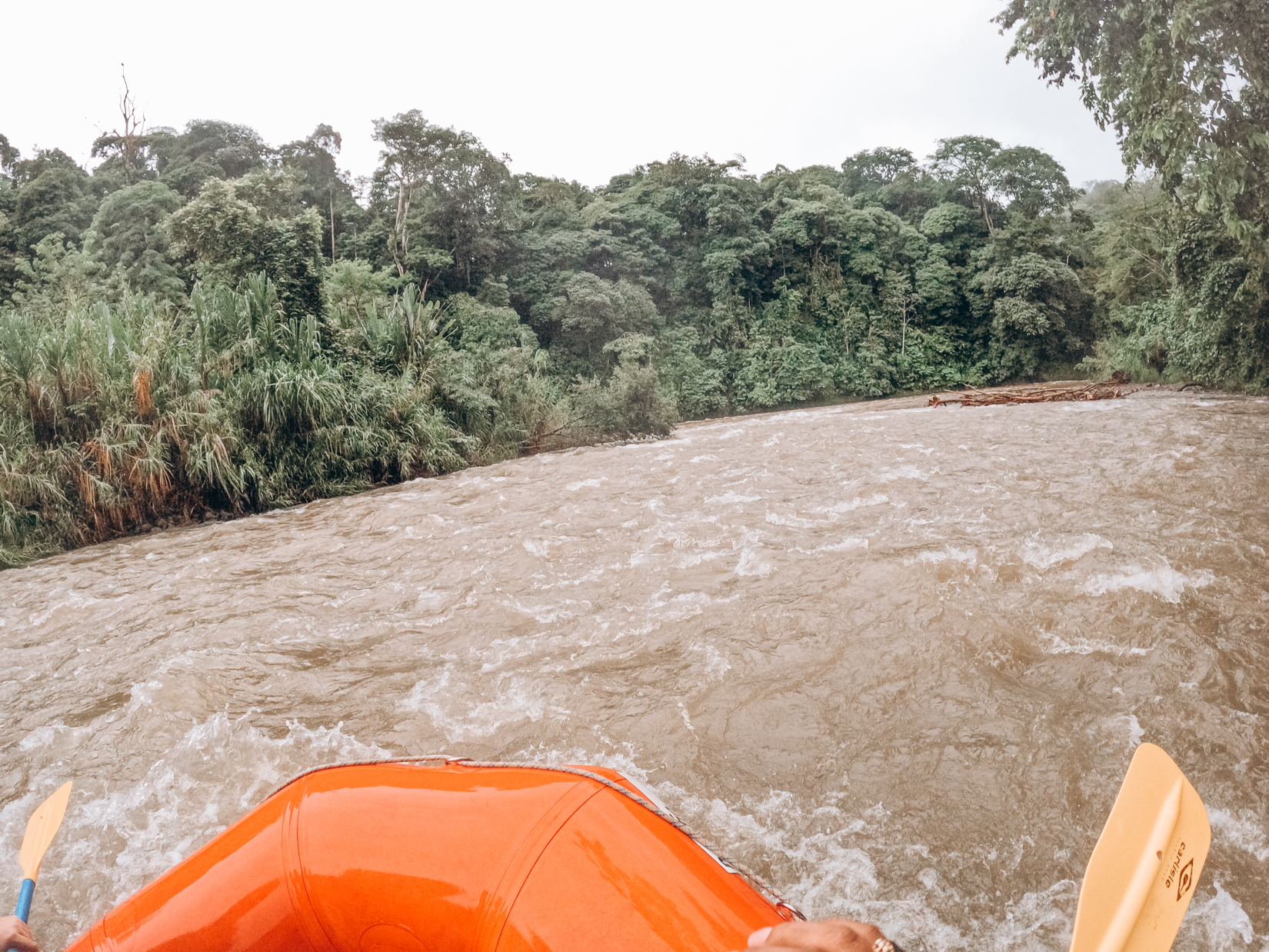 2. Safari Float
If you want to spend some time on the water without the adrenaline of doing white water rafting, a float is the activity for you. Glide down the river of your choice as a guide points out Costa Rican flora and fauna.
3. Mistico Hanging Bridges
Hanging bridges are very popular in Costa Rica. We did the ones at Selvatura park in Monteverde, but if you're not headed to Monteverde, you can still check out some hanging bridges at Mistico Park.
4. Hot Springs
You can't visit the La Fortuna/Arenal area without spending some time in the amazing hot springs. We stayed at the Tabacon Resort and Thermal Spa, and had daily access to the hot springs. Many resorts have hot springs that are accessible to those not staying at their property for a fee.
5. La Fortuna Waterfall Hike
Another can't miss activity while in La Fortuna/Arenal. Just note, there's 500 stairs to get to the base of the waterfall. They are easy enough to get down, but coming up is definitely a task.
6. Waterfall Rappelling
TLC said don't go chasing waterfalls, they didn't say anything against rappelling them. While this wasn't as exhilarating as I thought it would be, it's cool to say I've done it. On my trip, we did the Pure Trek Canyoning Tour.
7. Go Ziplining
Zip lining is HUGE in Costa Rica, after all, it's the birthplace of the activity. There's plenty of places that offer zip lining in Arenal including Arenal Mundo Aventura and Sky Adventures.
8. Arenal 1968 Hike
Weather permitting, this is a great hike if you're trying to see the Arenal volcano. Unfortunately, when we went to do this hike, it was super cloudy and rainy. The person at the ticket counter pretty much said it wouldn't be worth it because we wouldn't see anything.
9. Go Horseback Riding
Horseback riding is another popular activity in Costa Rica, and a nice way to see the scenery if you don't want to hike.
10. Go Tubing
If you're interested in white water rafting, but want to get your feet wet first, tubing is a good intro to rapids. While in an individual tube, you'll float down a river with class I and II rapids.
I hope you found this list of things to do in La Fortuna / Arenal Helpful. If you have, pin it for later!