I recently got back from Colombia, and wanted to share my.2-Day Bogota itinerary. If you're flying into Colombia via Bogota, you might be thinking of skipping the city altogether. However, I think it's worth spending a couple of days there before heading to your next destination.
As the largest city and capital of Colombia, Bogota is a great place to start getting acquainted with Colombian culture. That being said, it deserves a couple of days on your Colombia itinerary.
2 Days in Bogota Itinerary
2 Days in Bogota Itinerary – Where to Stay
Zona Rosa
Zona Rosa is considered the best area to stay in Bogota. It's safe and filled with nice restaurants, bars, and places to shop. There's also plenty of boutique and luxury hotels in this area.
La Candelaria
If you're interested in staying in the historical center of Bogota, you'll want to stay in La Candelaria. This a great place to be based for sightseeing as most of the city's points of interest are in this area.
Chapinero
Chapinero is another popular area to stay in Bogota. In this area you can find upscale restaurants, trendy bars, and buzzing nightlife. Also, this is LGBTQ+ friendly area.
This is the area we stayed in during our 2 days in Bogota. During the day, it felt perfectly safe and we were comfortable walking around. At night, it didn't feel unsafe, but the streets got really empty. The only time we went out after dark was for dinner, so we picked restaurants that were within a 5 minute walk from our hotel, Hotel Coco.
Hotel Coco is a lovely boutique hotel. From the lobby to the rooftop everything is beautifully decorated. We stayed in one of their superior double rooms which wasn't huge, but enough space for the two of us. The only thing is, the beds aren't super comfy. But, to be fair, NONE of the beds we slept on in Colombia were comfy. So, firm bed aside, it's a great place to stay in Bogota.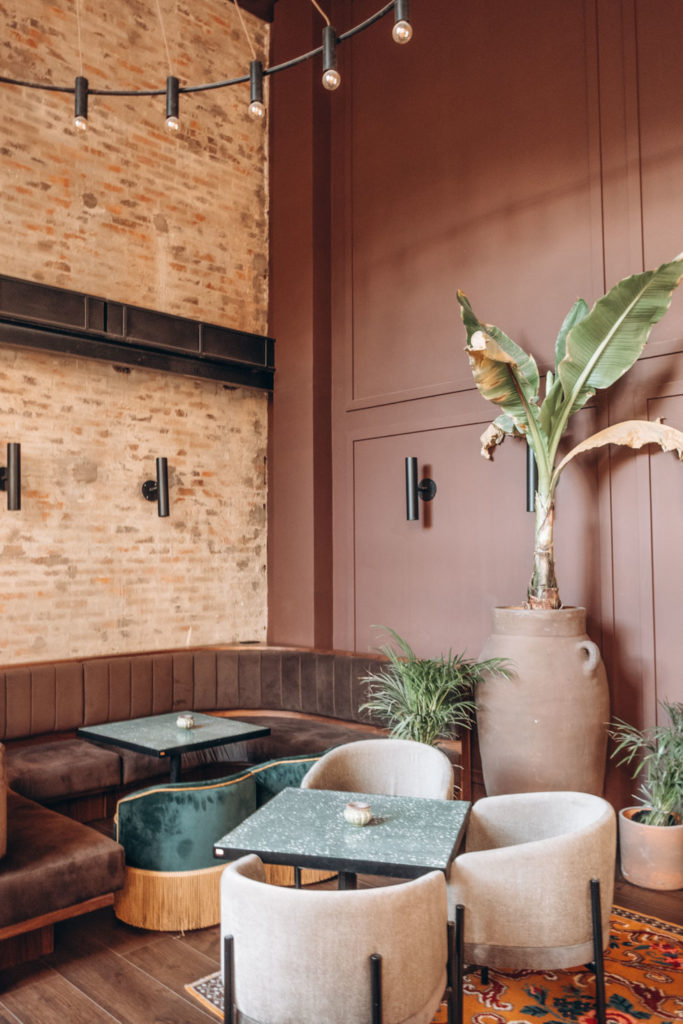 Find More Great Hotels in Bogota
2 Days in Bogota Itinerary – Where to Eat
Libertario Coffee Roasters
You can find Libertario Coffee Roasters in Bogota and Cartagana. There is one directly across the street from Hotel Coco, so if you end up staying there definitely stop by. The coffee is really good and so is their almond croissant. It has a little bit of cinnamon in it which is different from the almond croissants I've had in the past and it made a delicious difference.
Also, you can buy Libertario coffee to take home with you. You can leave it as whole beans or they can ground it according to your brew preference.
Colo Coffee
Another popular coffee shop in Bogota, Colo has many locations all over the city. Like Libertario, you can also purchase coffee to take home with you.
Masa 70
If you're looking for a great place to get breakfast in Bogota, check out Masa 70. They offer a good variety of beverages and food items. I got their salmon bagel, with orange juice and a latte, all of which were very good. Brooke got the pancakes and said they were different, but still good!
Castanyoles
Castanyoles is a Spanish bar and restaurant located in the Four Seasons. We went for dinner one night and loved it. It's beautifully decorated with a cozy ambience and the food is tasty. We ordered the mixed paella, braised short ribs, two rounds of drinks and dessert and paid about $45 USD each.
Madre
For our first meal in Bogota, we went to Madre, a really cute Italian restaurant in La Candelaria. Actually, our first meal was McDonald's as it was the only thing open when we arrived, but after that it was Madre. They are known for their wood-fired pizzas but they also serve different meat and fish dishes as well.
Our Beyond Colombia tour ended about five minutes away from the restaurant. Granted they always end in the same location, Madre is a great place to grab lunch after taking the free walking tour.
Cafe Radio Estrella
Cafe Radio Estrella is Hotel Coco's rooftop restaurant/bar. The hotel breakfast is served here in the mornings, but it's nothing to write home about. So, skip it and go to Masa 70 instead. On the other hand, Cafe Radio Estrella is a good place to grab sunset drinks with a great view. I like the Guacarrock (tequila, mezcal, pineapple + chile syrup, lemon juice) which is a nice mix of sweet and smoky with a little kick.
2 Days in Bogota Itinerary – Things to Do
Free Walking Tour
One of the most popular things to do in Bogota is to take a free walking tour. We took ours with Beyond Colombia, who offers three different free walking tours. We did the general free walking tour which takes you around La Candelaria and teaches you some history of the city and Colombia as a whole.
While the tour is free, you are expected to tip your guide.
Visit the Candy Cane Church
While in the La Candelaria area, check out Santuario Nuestra Señora del Carmen, also known as the candy cane church. The church's red and white stripes make for a nice photo op. So, pop by for a couple of pictures, and then keep moving.
Look for Emeralds in La Candelaria's Emerald District
Bogota is surrounded by a couple of different emerald mines which means you can find some great deals on them in the city. You can also find them throughout the country but according to one of our tour guides Bogota is the best place to buy them due to its proximity to the mines.
Unfortunately, we didn't get to go shopping in Bogota because I had a meeting in the middle of our sightseeing day. But, I wanted to mention it here because I feel like a lot of guides don't mention the emerald district.
Take a Day Trip to Zipaquira Salt Cathedral and Guatavita
The reason I recommend spending 2 days in Bogota is so that you can spend one day taking a day trip out of the city. I recommend this Zipaquira Salt Cathedral and Guatavita tour. I recommend this one specifically because a lot of the other tours don't offer an English-speaking guide. The salt cathedral has an audio guide that can be programmed to a specific language, but without an English-speaking guide the rest of the day, you'd have no idea what was going on. 
Our guide, Marcelo, was funny, knowledgeable, and did a great job of explaining things in both English and Spanish. Our group had a mix of native Spanish speakers and those who were English dependent, and he did a good job of engaging with all of us.
More Things to Add to Your Bogota Itinerary
2 Days in Bogota
Bogota Itinerary – Day 1
Coffee at Libertario
Free walking tour with Beyond Colombia
Lunch at Madre
Santuario Nuestra Señora del Carmen
Emerald District
Midday coffee from Colo
Sunset Drinks at Cafe Radio Estrella
Dinner at Castanyoles
Bogota Itinerary – Day 2
Breakfast at Masa 70
Day trip to Zipaquira and Guatavita
Found this post helpful? Pin it for later!