Hiking Diamond Head is one of the top things to do in Oahu. For being such a short hike, you're rewarded with some of the most incredible views on the island making it one of the best hikes in Oahu for beginners.
Hiking Diamond Head – One of the Best Hikes in Oahu
*This post contains affiliate links. Which means that if you purchase something after clicking on a link, I may earn a small commission at no extra cost to you.
How to Get to Diamond Head
There's a few different ways to get to Diamond Head.
Drive
If you have a car, you can drive yourself. Diamond Head is about a 12-20 minute drive from Waikiki. There is also on-site parking available for $10.
TheBus
Another option is to take TheBus, Oahu's public bus system. Tickets are $3 each way, and if you have a HOLO card after two rides the rest of your rides are free.
Waikiki Trolley
Waikiki has a hop-on hop-off trolley that has over 40 stops including Diamond Head. If you don't have a car it's not a bad way to get around Waikiki to see some sites. They offer 1, 4, and 7 day passes. Check here for the latest pricing for the passes.
In order to get to the trail, you'll want to take the blue line to the Diamond Head Stop.
What Makes Diamond Head one of the Best Hikes in Oahu?
What makes Diamond Head one of the best hikes in Oahu is the fact that it's a relatively easy hike. Although it only takes about 45 minutes to an hour to reach the summit, you'll be rewarded with some of the most stunning views of Honolulu, Waikiki, and the South Shore.
Diamond Head Trail Specs
Difficulty:
Moderate according to the Hawaii Parks website, Easy in my opinion
Distance:
1.6 miles (2.5 km)
Duration:
1.5-2 hours
Elevation Gain:
452 ft
Trail Type:
Out & Back
Terrain:
Paved surface with some uneven rock
About the trail
The park opens at 6:00 AM and closes at 6:00 PM with the last entry being at 4:00 PM. The gates lock at 6:00 PM so you need to be out by then.
According to the park website, you need to arrive within the first 30 minutes of your reservation if you're driving to clear parking spaces for the next reservation window. We showed up around 6:40 AM and there was no issue getting in, but the parking lot also wasn't very full so maybe they are more strict about this on busy days.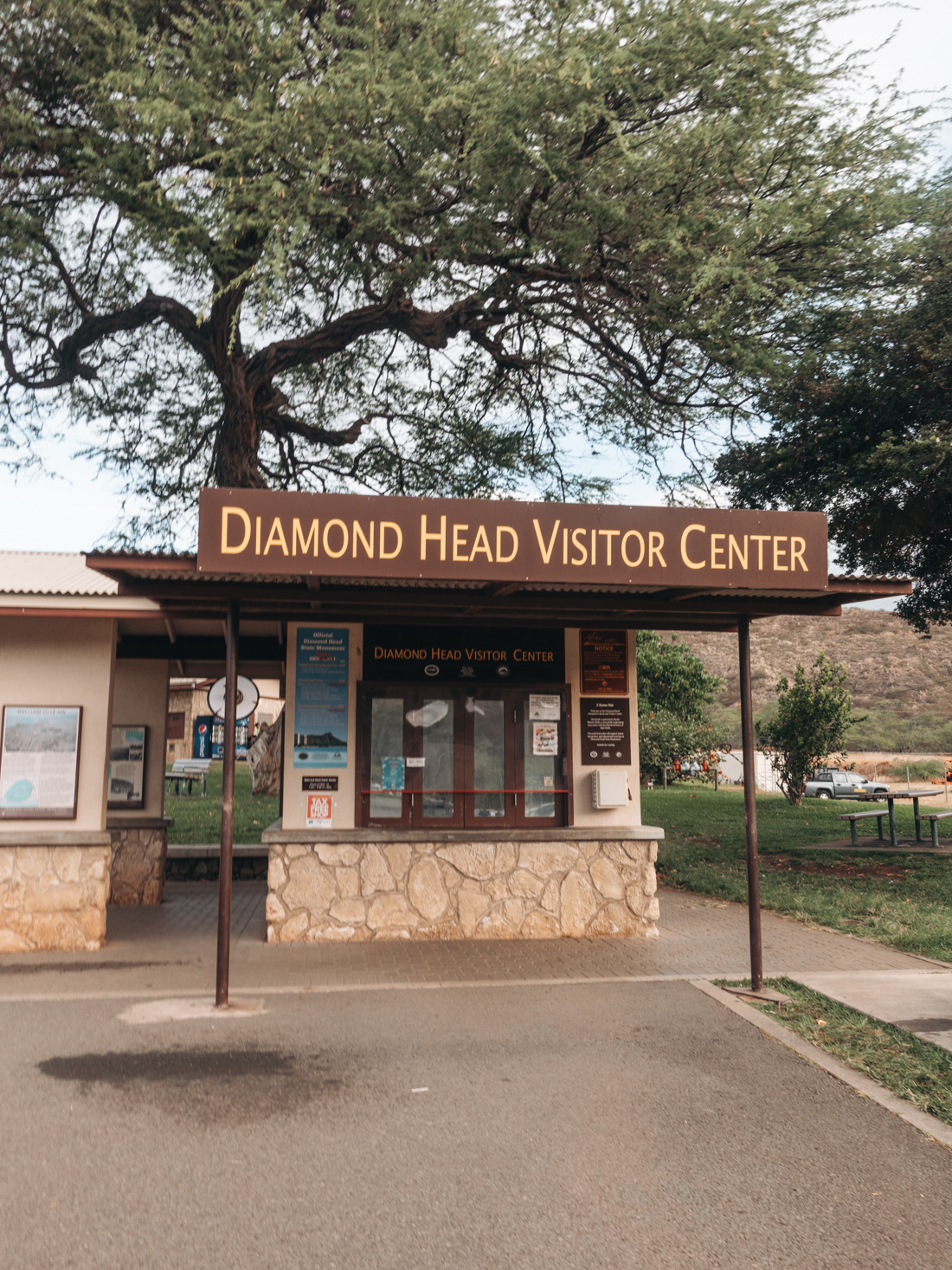 Off the parking lot, there's a small visitor center where you can grab Diamond Head souvenirs. When we arrived at 6:40 AM it wasn't open, but it was when we came back down around 8:00 AM. Behind the visitor center, there are some decently maintained bathrooms and a couple of water fountains to fill bottles. Once you're ready to get started, the trailhead is to the left of the center.
The beginning of the hike is flat, paved, and easy enough to get through. Next, you'll start winding your way up the mountain and the terrain will change to the uneven rock mentioned about. To start out, the incline isn't horrible and very gradual. However, there's a couple of spots along the way where you can sit and catch your breath if needed.
As you make your way up, there will be a couple of areas that get tight when there's two-way traffic. I just stepped off to the side to let those heading down get by. And on that note, I also had to step off to the side to let the faster moving people pass me up.
Closer to the top, you enter a dimly lit tunnel. This part is a bit rough because it's a tight space, both vertically and horizontally, and you're at an incline. So, if there's people behind you it can be hard to take a break. However, once you exit the tunnel there is a small seating area. To the right, you can walk around to a lookout or you can go left up a super steep set of stairs to the top. Just know that there's also a set of stair to get to the top on the right side, but they're not a steep.
Once you ascend either set of stairs, you'll be greeted by some spectacular views of the island. At the top there's a couple of different areas to check out. You can snap a photo at the iconic lookout, or head to the old bunker with a beautiful view of the ocean and a small white lighthouse. The views are absolutely beautiful, and I definitely see why this hike is consistently named one of the best hikes in Oahu.
When we made it to the top, we started with snapping a few pictures of the iconic view because it was getting busier and we didn't want to fight a bunch of people for the spot.
We were going to go through the bunker on our way down, but the staircase creeped me out and I was getting "mole people" vibes from it. So, we decided to go back the way we came.
By time we made it back down the mountain it was roughly, 8:30 AM. So, with stopping along the way and taking a ton of photos and videos, it took us about 2 hours to complete the hike start to finish. I'm not in the best shape of my life, and I still found hiking Diamond Head relatively easy.
Tips for Hiking Diamond Head
Bring lots of water: There's no water on the trail so make sure to bring some with you
Wear Sunscreen: There's a couple patches of shade on this trail, but for the most part you're exposed to the elements. Make sure to apply before you get going.
Bring Snacks: After hiking up, you may want to spend a little time at the top before making your way down.
Booking a trip to Oahu? Read these posts for more help planning your trip:
FAQs
Do you need Reservations to Hike Diamond Head?
Yes! As of 2022, if you are not a resident of Hawaii you will need to book a reservation to access the Diamond Head trail. If you can't provide a Hawaii State ID at the entrance, you will be turned away.
How Much Does it Cost to Hike Diamond Head?
Entry is $5 per person. You'll also need to pay $10 for parking if you have a vehicle.
How Do I Make A Reservation to Hike Diamond Head?
You can make a reservation to hike Diamond Head by visiting the Hawaii State Parks website.
How Far in Advance can You Make A Reservation?
As of now you can book up to 14 days in advance. However, there's a plan to open the window to 30 days.
Found this post helpful? Pin it for later!